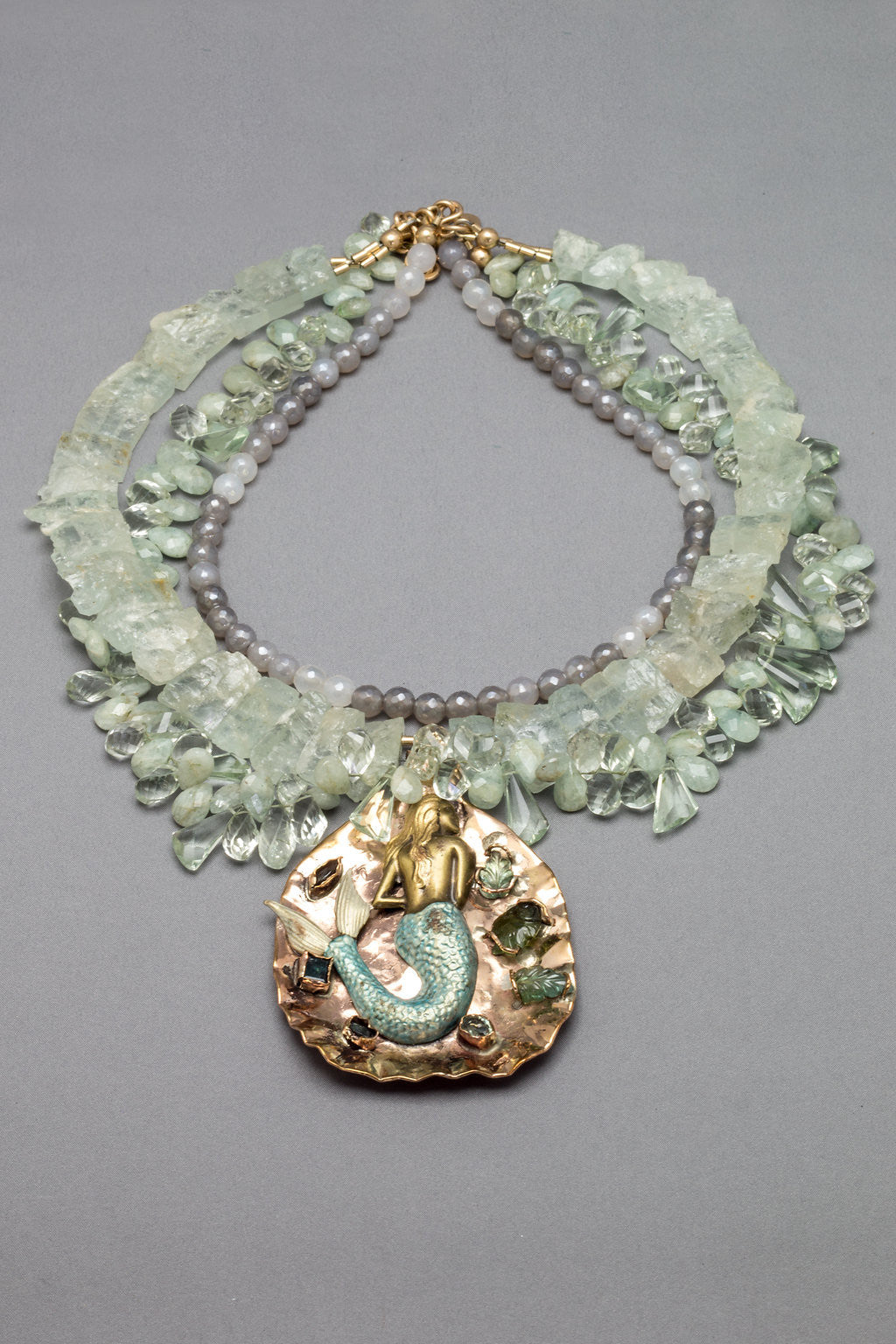 The Queen of the Mermaid's Badge of Honor
There's a reason why this stunning piece is called The Queen of the Mermaid's Badge of Honor. This necklace emanates the very essence of the majestic power and mystery of the world's oceans!
Wear this necklace with your head held high, as it hangs proudly on strands of green amethyst, aquamarine and chalcedony. Her Majesty floats among vintage Brazilian tourmaline leaves, fish and bubbles on a handmade 18kt gold plate. 
Tourmaline is a powerful grounding stone. It promotes a sense of power and self-confidence, allowing for a clearer, more objective view of the world. It is empowering to those who must live or work in challenging environments or when facing difficult circumstances. 
Green amethyst is a strong amplifier of energy. Also known as Prasiolite, it will assist you in expressing personal emotion. Green amethysts are very spiritual stones, which help bridge the gap between the physical and the spiritual world. These stones encourage the wearer to become more in tune with nature and to look inwards to self discovery.
Aquamarine has strong metaphysical properties that help you to let go of old emotional issues you may be holding on to, by assisting you to release anger and reduce stress. Thus, it can help you to make positive changes in your life. It helps to heighten your courage when you are handling grief and give powerful assistance for self healing.
Chalcedony is a sacred stone of the Native Americans. It is believed to encourage brotherhood, goodwill and instill generosity. It is said to relieve depression and mental illness and is a stone of harmony.