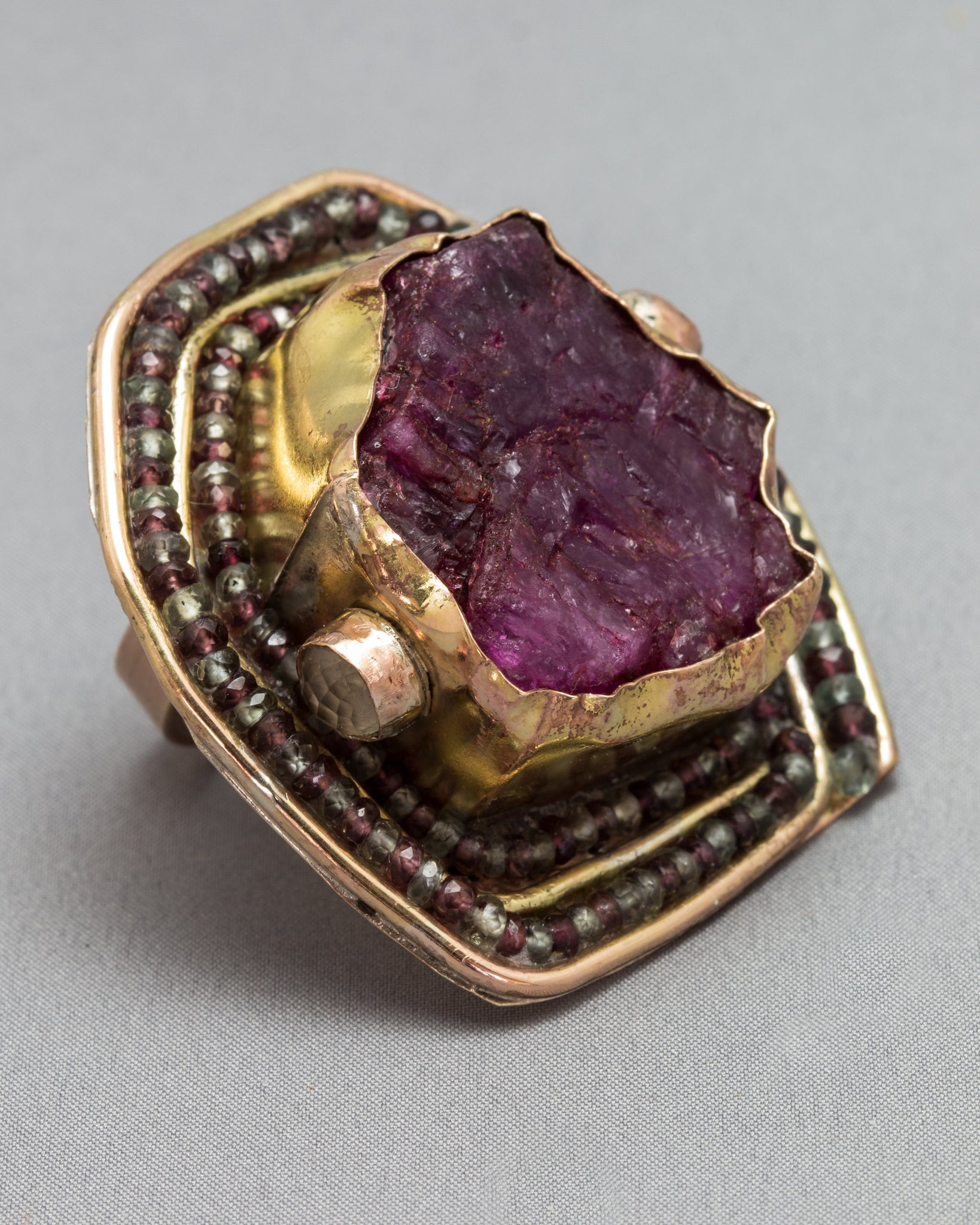 Red Beryl Ring with Green Amethyst and Multi-Coloured Sapphires
Fasten your seat belt when you wear this ring because you will feel like you can conquer the world world with its powerful energy, passion and beauty!
Red Beryl is a rare and remarkable find, a passionate Earth stone of physical vitality and action. Its metaphysical energies make it the perfect "Right Time" Crystal, lending wisdom and self-confidence in knowing "the right time" to change one's mind, change one's direction, or to "do" something. It imparts strength of purpose and courage, and can spark the action needed to overcome undesirable circumstances, or lend the vigor needed to tackle long-overdue projects. In intimate relationships, it can stir the fires of passion and provide the courage to make deep emotional commitments. Natural Red Beryl is extraordinarily rare, with only one magnificent crystal found for every 150, 000 Diamonds. It is estimated to be worth a thousand times more than Gold, and top quality faceted gems may bring as much as $10,000 per carat. It is presently found in only three locations in the world: the Thomas Range and the Wah Wah Mountains in Utah, and the Black Range in New Mexico.Red Beryl is not only a crystal of passion but enkindles warm, affectionate lasting love. It may be carried or worn to attract a soulmate and for keeping a relationship caring and supportive even in difficult times. The healing energy of Red Beryl is also beneficial in overcoming grief and loss, heartbreak or betrayal, and is conducive to keeping the heart open in order to receive love in the future. Prasiolite, also known as 
Green Amethyst
, is a very spiritual stone. Prasiolite assists in bringing spiritual ideals into expression in every day life. Prasiolite is known to clear negativity, attract prosperity, strengthen the emotions, the mind and the will and bring good fortune and luck. Sapphires are the stone of wisdom, prophecy and royalty. If you need to calm and focus your mind, this stone will be perfect for you. If you are easily swayed by others, wear or carry Sapphire to become more secure in your own opinions and knowledge and to have an easier time expressing your thoughts.