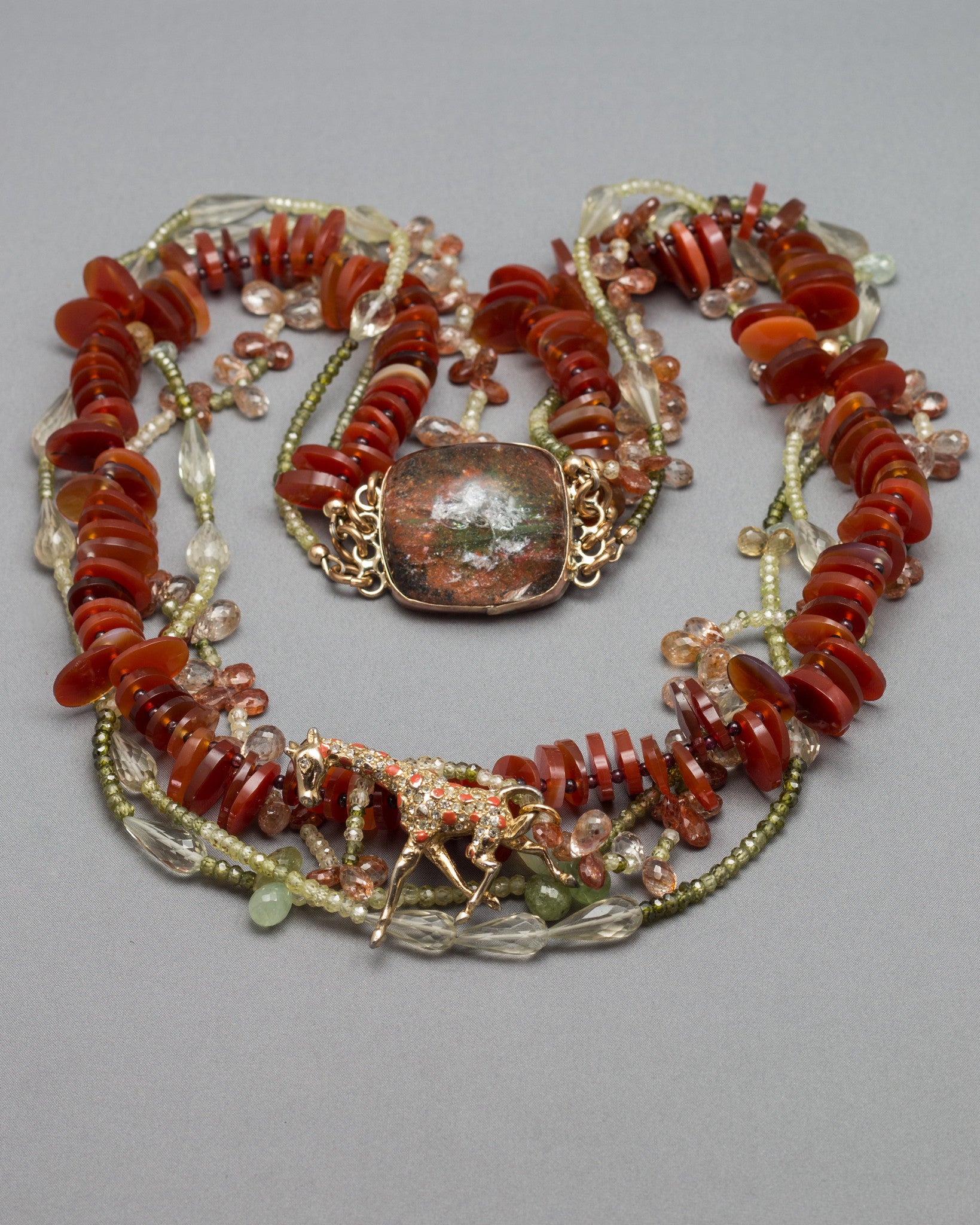 Majestic Wandering Giraffe
Our Hattie Carnegie giraffe majestically wanders through a sparkly grassland of green garnet, aquamarine, various shades of green zircon, light green amethyst, bronzey-gold zircon and carnelian studded with tiny balls of burgundy garnet. This piece is completed by its stunning handmade dendritic quartz clasp that has a symphony of white, moss green and burnt orange flecks. 
Garnet provides a protective influence and a calming stable vitality. Green Garnet is a stone of confidence, and stability in challenges. It is a stone of prosperity and abundance, encouraging gratitude and service to others.
Aquamarine has strong metaphysical properties that help you let go of emotional issues you may be holding on to, by assisting you to release anger and reduce stress. Thus, it can help you to make positive changes in your life. It helps to heighten your courage when you are handling grief and give powerful assistance for self healing.
Folk wisdom says that Zircon has the power to relieve pain, protect travellers and prevent nightmares. Zircon brings balance, spiritual grounding and healing. Zircon is a powerful grounding stone and is often used to harmonize one's inner goals and dreams with real life. 
Green Amethyst is a strong amplifier of energy. Also known as Prasiolite, it will assist you in expressing personal emotion. Green Amethysts are very spiritual stones, which help bridge the gap between the physical and spiritual world. These stones encourage the wearer to become more in tune with nature and to look inwards to self discovery.
The ancient Egyptians called Carnelian the stone of "the setting sun". Carnelian is a stone of motivation and endurance, courage and leadership. It is traditionally worn to enhance passion, love and desire.