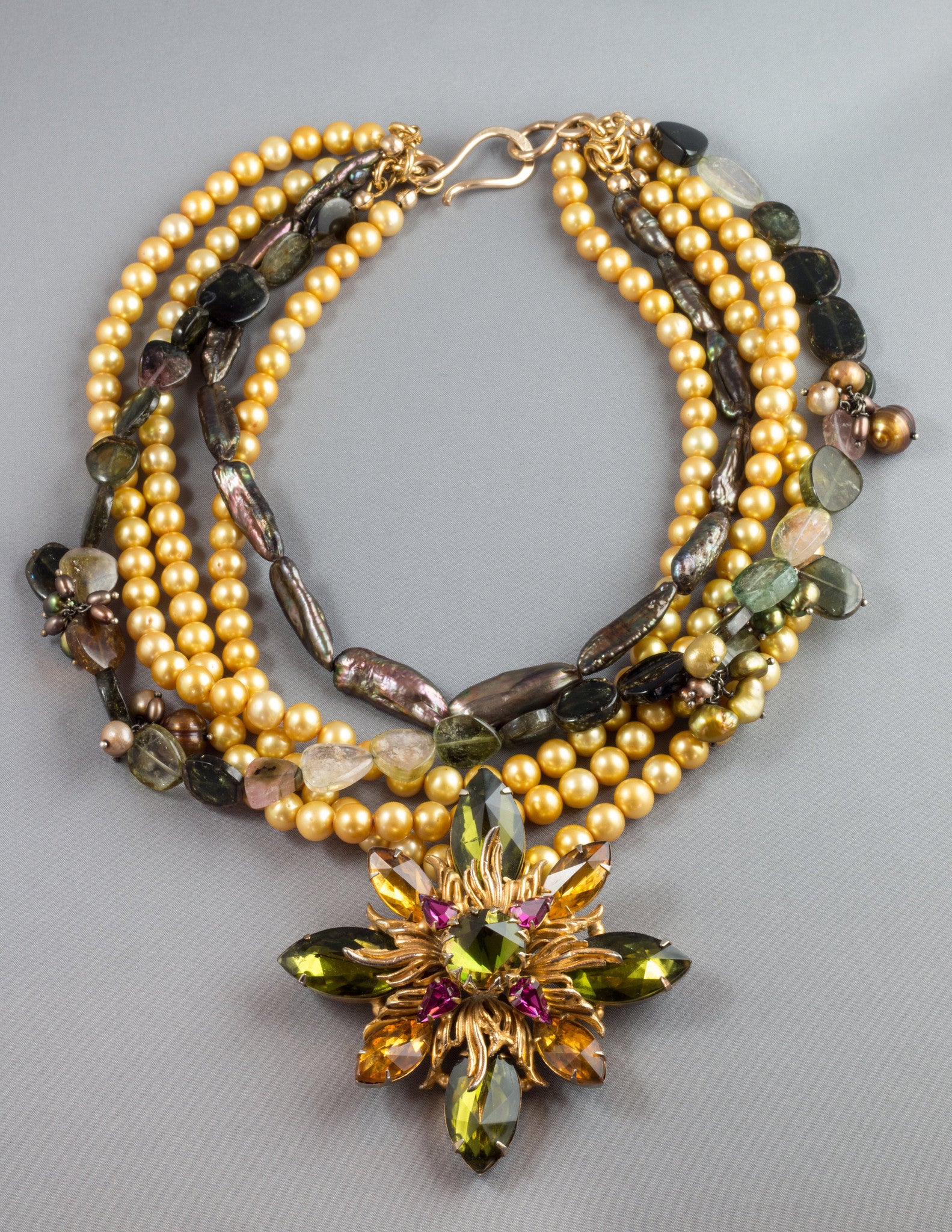 Hattie's Flower Power
This sumptuous vintage Hattie Carnegie 1940-50's vividly coloured flower is surrounded with vintage hand cut watermelon tourmaline and freshwater pearls from the Amalfi Coast, all from around the same time period. 
Tourmaline is the alternative birthstone for October, along with Opal.  It's uplifting and motivating while assisting us to know inner truth. Pink tourmaline is of great value to people that have difficulty dealing with fear, who have panic attacks or who are in need of something to help them heal their inner chaos and dread. It's a heart protector as well as an aphrodisiac. It teaches that it is safe to love and therefore instills confidence. It introduces the qualities of compassion and wisdom into your dealings with others. It also promotes flexibility of thought.
Black Tourmaline is also a powerful grounding stone, electrical in nature, providing a connection between Earth and the human spirit. It promotes a sense of power and self-confidence, allowing for a clearer, more objective view of the world. It is empowering to those who must live or work in challenging environments or when facing difficult circumstances.
Green Tourmaline attracts luck, success, abundance and prosperity. It inspires creativity, and may be used to project, create and manifest one's goals.
Pearls symbolize wisdom acquired through experience and are known for their calming effect.. They are believed to attract wealth and luck as well as offer protection. The pearl is also said to symbolize the purity, generosity, integrity and loyalty of its wearer.
Freshwater pearls promote sincerity, truth and loyalty.  It is also said to enhance personal integrity, soothes, calms, yet focuses attention.