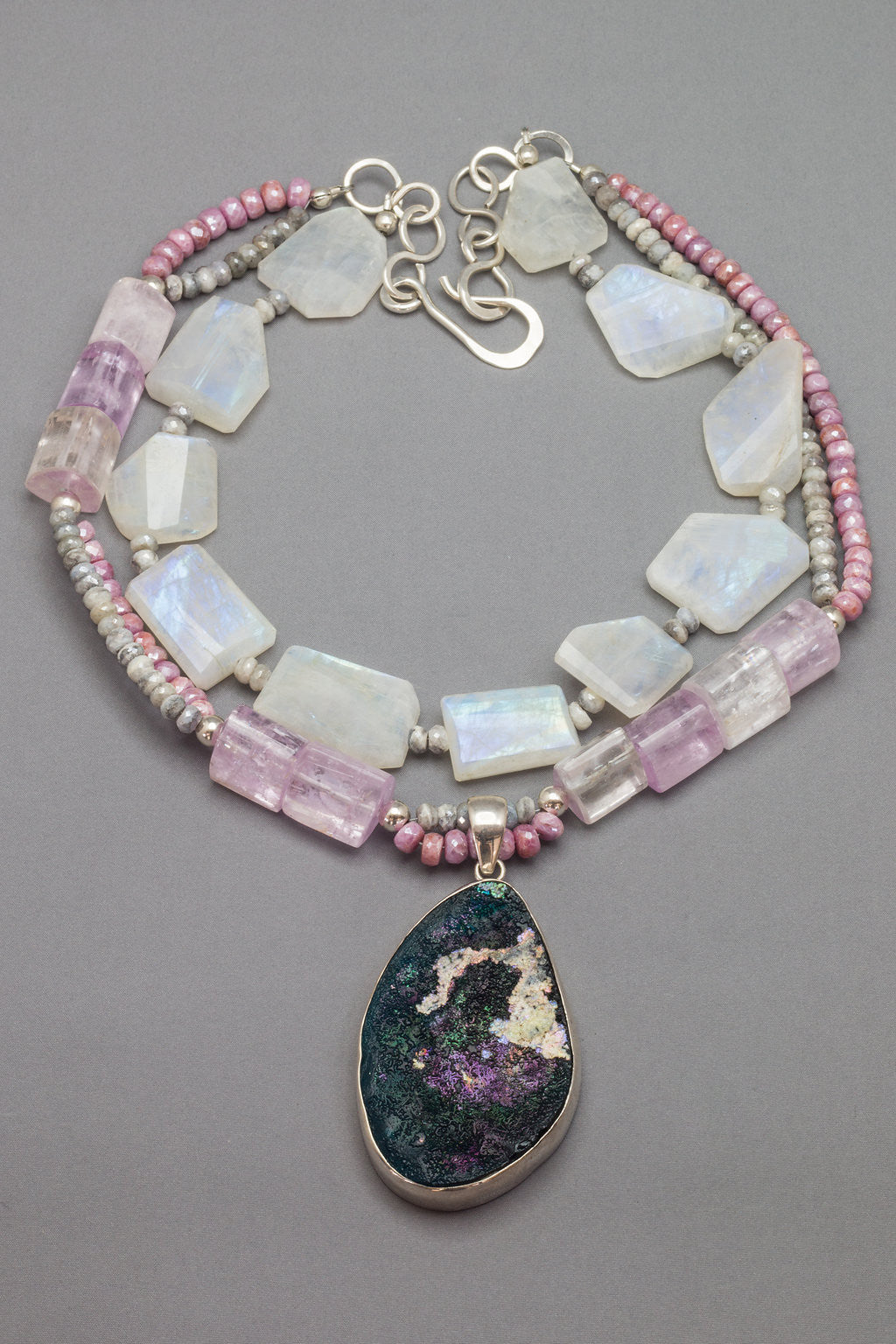 Glimmering Gorgeous Glass Galaxy
Although the Neolithic Era marked the end of the Stone Age, thank goodness they left some stones around for us to find! This otherworldly piece of Neolithic glass will transport you into another galaxy where stars of moonstone, kunzite, pink and grey sapphire glimmer brilliantly. 
Moonstones open the heart to nurturing qualities, as well as assists in the acceptance of love. They have long been known for their calming, soothing qualities on the emotional body. Moonstones' energy is balancing and healing. They bring hope, enhance feminine energies, sensitivity and intuition. 
Pink Sapphire brings the wisdom of resilience to one's life, teaching that true strength lies in the power of vulnerability. This stone assist the emotional body through transitions of life, stimulating emotions of love, forgiveness, acceptance and letting go. This lovely crystal soothes the heart and aligns it with the mind, healing wounds of the past and encouraging compassion for others. 
Grey Sapphire brings the wisdom of confidence in one's own intuition. It is protective and grounding, relieves anxiety and sorrow, and is a talisman for seeking and maintaining employment.
Kunzite is a lovely heart based crystal that encourages the energy of love to fill your life. These stones are strong healing crystals for the emotions and create loving relationships, as your life fills with love on all levels. This stone has strong metaphysical properties that aid you to lift your mood and to help you to heal emotional problems, such as anxiety and stress.