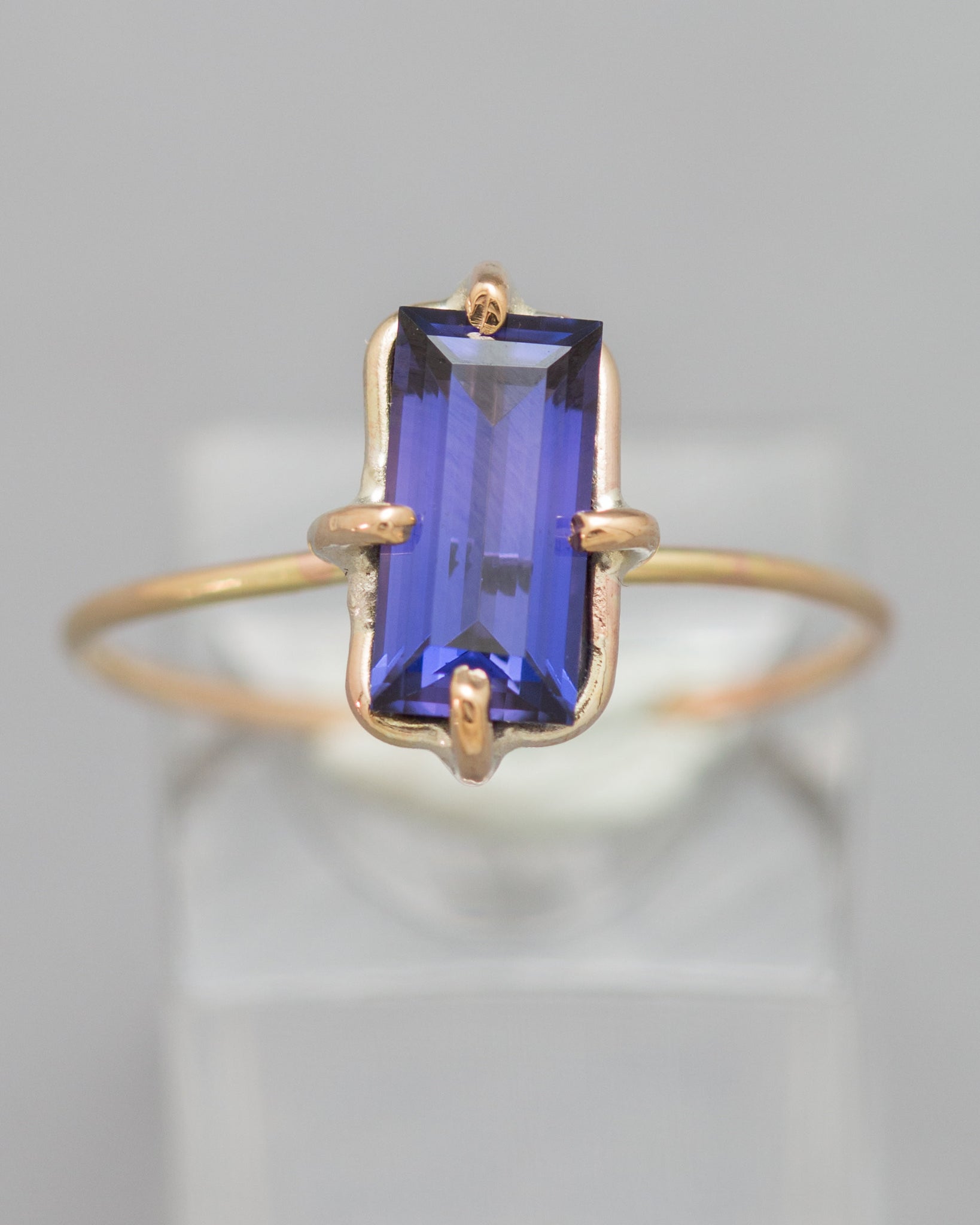 Alexandrite Stacking Ring
This classic 18kt. gold filled handmade indicolite stacking ring is beautiful worn on its own or with its accompanying 'stacking sisters', as seen in the photograph.
 Alexandrite is an extremely rare gemstone and a fairly modern one. It does not share the ancient history and lore of most other gems due to the fact that it was first discovered in the 19th Century in the emerald mines near the Tokovaya River in Russia's Ural Mountains in 1830, on the day of Prince Alexander II of Russia's birthday. The story of the stone's discovery is that the Miners were working alone in the mountains one day, collecting emeralds. One miner gathered some stones, which looked like emeralds and took them back to the camp at the end of the day. But in the light of the campfire, the stones shone a brilliant shade of red! The miners were perplexed. When morning came and they saw that the stones were green again in the light, they realized that they had found a new and mysterious gem. In time, alexandrite would become one of the most prized gemstones amongst Russian Aristocracy.  Since its discovery, the gemstone has been thought to bring luck, good fortune and love. In Russia, it is considered to be a stone of very good omen. It is believed to bring balance in the interaction between the physical manifest world and the astral world. It opens the crown chakra, bringing one access to the warm, healing energy and love of the universe. It is also said to strengthen intuiion, creativity, and imagination. While Alexandrites found favor in the jewelry salons of St. Petersburg, Russia and Paris, France, it was America's Tiffany Company that seems to have done the most to popularize the gem. George Kunz, Tiffany's master gem buyer, fell absolutely in love with the gem and traveled to Russia in search of it. No one knows exactly how much of the gemstone he bought, but Tiffany had reserves so large, that it cornered the market on the stone for decades.