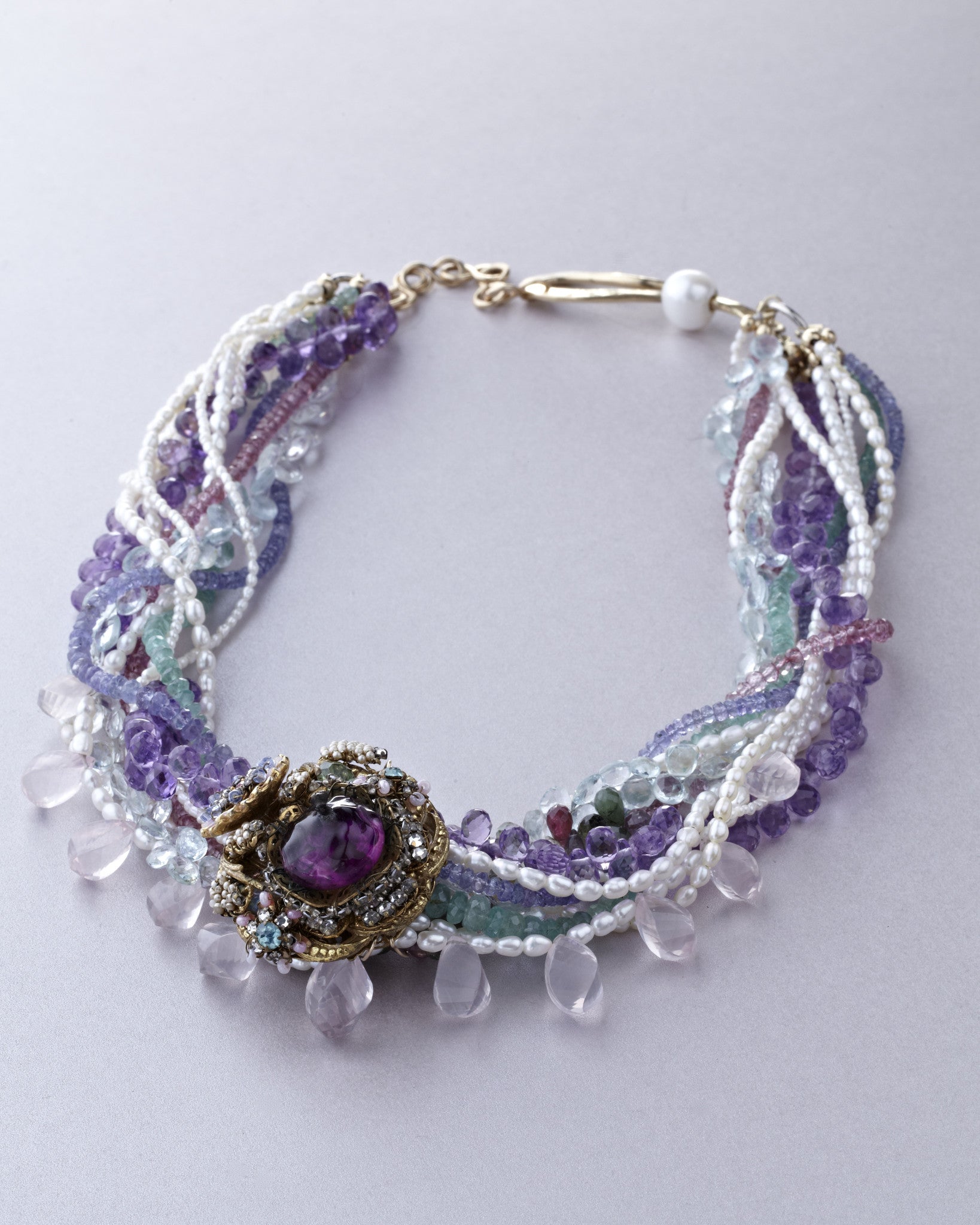 A Jewel Amidst the Shrubbery
A stunning early Miriam Haskell floral piece nestling in a shrub of tanzanite, tourmaline, aquamarine, emerald, seed pearls, amethyst and pink topaz.

Tanzanite is called a "stone of magic" as it said to help with spiritual awareness and psychic insight. It is also sometimes called the "workaholic's stone". This is because it helps you slow down and take it easy. It relieves stress and depression, and enhances composure, poise, and harmony. It is also said to transmute negativity.
Aquamarine has strong metaphysical properties that help you to let go of old emotional issues you may be holding on to. By assisting you to release anger and reduce stress, it may help you to make positive changes in your life. It helps to heighten your courage when you are handling grief and are powerful to assist self healing.
Emeralds are known as a stone of successful and abundant love. They help you to let go of negativity and support you to give you the strength to overcome any problems in your life.

Cultured or freshwater pearls are considered to offer the power of love, money, protection and luck. Pearls are thought to give wisdom through experience, to quicken the laws of karma and to cement engagements and love relationships. They are thought to keep children safe.

Rose quartz is known as the 'Love Stone' and is said to be the stone of unconditional love. This crystal opens the Heart Chakra and is believed to encourage forgiveness and to help you to let go of anger, resentment and jealousy.

Pink topaz is a strong, steady, high level gem for mental clarity, focus, perceptivity, confidence, personal power and stamina.

Amethyst is a meditative and calming stone which works in the emotional, spiritual, and physical planes to provide calm, balance, patience and peace. Emotionally, amethyst is used in crystal healing to help heal personal losses and grief. Amethyst has a gently sedative energy that can promote peacefulness, happiness, and contentment. It also is said to bring emotional stability and inner strength.
Weight: 155g